&lt Back To Blog Archive
Busting the myths of trees and carbon
BY


Michael Cooper
Date


January 2022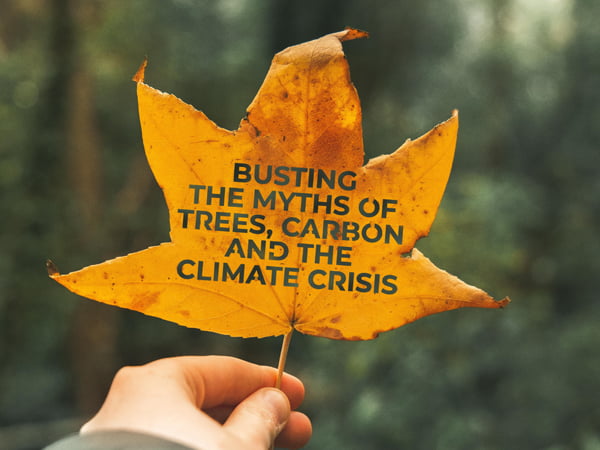 As awareness of the climate crisis grows, businesses like our own are placed under greater scrutiny than ever. Before any of our clients invest any time or money into engaging our services, we encourage them to do their research and make sure the process and products are as ethical and transparent as possible.
In short, we take our corporate social responsibilities very seriously.
However, with unscrupulous businesses appearing in the sector and a societal shift towards cynicism and greenwashing, we have noticed a number of myths emerging around the carbon and biodiversity spheres.
Here are some of the most common myths about the sector within which we operate.
MYTH 1:
"Tree-planting programs are too little, too late… They don't sequester enough carbon to make much of a difference to the future of the planet."
THE FACTS:
While numerous media outlets have run these stories, they often don't show the full picture…
The consensus among the scientific community is that tree planting and the protection of forests is an essential component of the climate change toolkit. Critical articles and editorials that dismiss tree planting often fail to recognise the types of planting projects that more commonly fail, and rarely touch on the myriad other benefits that this activity provides.
As an example, one of Carbon Neutral's key projects is the Yarra Yarra Biodiversity Corridor in Western Australia. Our planters carefully plan which species of plants and trees are used in the Corridor, and the mix of more than 60 species is designed to be both sustainable and complementary to the fauna of the region. The project is restoring a threatened ecological community that has been cleared to just 10% of its original extent.
Biodiverse plantings, as opposed to monoculture (planting of a single species), has many advantages to local wildlife and the ongoing sustainability of the area. It is true some major planting projects that have relied on monoculture species have either caused outcomes that actually increase greenhouse gas emissions or increased the chances of fires, particularly on the west coast of America and in the Amazon. But it is scientifically proven that a tailored approach to biodiverse planting can not only capture as much carbon as monoculture plantings, but usually sequesters more in the long-term, and is also crucial to restoring and protecting all the other services biodiverse ecosystems offer.
Furthermore, humans are required to physically plant the trees and plants, and each new project creates job opportunities for the local community. Members of Indigenous communities are often employed in these projects, adding a further benefit on Australian shores. Historically, Carbon Neutral has maintained a focus on employing members of local Indigenous communities. In 2022, it is our aim to employment opportunities considerably with new projects in numerous sites across the country.
THE TAKEAWAY:
When selecting a partner to invest in tree planting, make sure you ask questions to get a full picture of their offering and the value that they can add in terms of biodiversity and local employment opportunities.
MYTH 2:
"What if we have another devastating bushfire season? Won't all of the carbon just burn off and go back into the atmosphere and the plants, trees and animals all die?"
THE FACTS:
Bushfires are an inevitable aspect of life in Australia and have been since long before humans first set foot on the continent more than 50,000 years ago. This scenario is only made worse by the results of climate change itself!
Tree planting is one of the cornerstones of our business, therefore we mitigate against fires in a number of different ways.
Firstly, each of the areas that we plant in is carefully planned to be as fire safe as possible. Carbon Neutral employs an active Fire Management Plan for each property that we manage, including the extensive use of firebreaks and close liaison with local fire brigades.
The only time our reforestation projects are truly at risk of fire damage is in the first year after planting. To address this risk, Carbon Neutral insures all its reforestation projects for this dangerous period, ensuring we have the resources to replant affected areas (although over the past two decades we've never had to call on this insurance).
The vast majority of planting projects we facilitate or manage are biodiverse, which have been proven to guard against the dangers of fire more than monocultures, which are often grown in long straight lines and are more susceptible to major fires engulfing larger areas. Furthermore, fire can be an essential part of the regeneration of ecosystems, and some Australian plant species need to be exposed to the heat of a bushfire for the germination process to happen. For example, the heat from a bushfire is thought to crack the hard seed coat of acacias (wattles) and native peas.
THE TAKEAWAY:
When selecting a partner to invest in tree planting, make sure you enquire as to their fire mitigation strategy and level of risk analysis, otherwise your investment could literally go up in smoke!
MYTH 3:
"I would like to have my business's carbon footprint accurately measured but the costs are prohibitive."
THE FACTS:
At Carbon Neutral, we like to talk about greenhouse gas emissions in terms of MEASURE, REDUCE and OFFSET. While the complex and technical data management our consultants undertake is time consuming (and therefore has a dollar value), it is not uncommon to find that when clients implement our recommendations from the reduce phase, they actually save money – and, in turn, offset the financial outlay. Obviously, this can differ widely between businesses that already have a considered environmentally friendly approach to operations and businesses that don't, but you may be surprised at the innovative suggestions that often lead to considerable savings.
THE TAKEAWAY:
Keep an open mind on the potential costs of achieving net zero emissions. Do your own research and then have a conversation with one of our highly qualified consultants. If offsetting is your goal; measure first, then reduce and then offset!
MYTH 4:
"Plant-a-tree projects are increasing in numbers by the day – are these just a licence to print money for entrepreneurs jumping on the sustainability bandwagon?"
THE FACTS:
The choices of plant-a-tree programmes have swelled rapidly in recent years, and it is true the marketplace has seen some projects appear that aren't as worthy as more established ventures.
THE TAKEAWAY:
Research the best program for you to invest in. Look at all the criteria of the project and don't base your decision entirely on the quantity of trees you can buy for your investment. Often, projects that appear to be more affordable don't necessarily have the infrastructure in place to provide co-benefits such as a richness of biodiversity, potential for the plants and trees to flourish, or how much the project enables employment opportunities for local communities.
MYTH 5:
Surely planting trees is simple.
THE FACTS:
Planting trees and shrubs on a mass scale is a major logistical undertaking and takes months of careful planning to successfully execute. The science and thought that goes into selecting the correct biodiversity mix is a major reason the process isn't as straightforward as you may imagine. Securing large tracts of land to plant in is a significant part of what legitimate companies like Carbon Neutral do.
THE TAKEAWAY:
Investing with an experienced and trusted business gives confidence your money is spent in a way that maximises the positive potential of capturing carbon through trees and shrubs.
MYTH 6:
Why bother trying to do the right thing when other countries produce more greenhouse gases than my own, and they don't seem to be doing anything?
THE FACTS:
Reducing GHG emissions isn't a black-and-white issue. Every person's action will truly make a difference. Similarly, the number of climate change deniers is reducing, and governments who aren't doing enough are coming under increased pressure to act with each passing day. Generations to come will look back on this those of us around today as either the people who allowed the planet to be irreparably affected by climate change or those who implemented a cultural shift to act more sustainably.
THE TAKEAWAY:
If we want to secure a planet that can sustain life as we know it, it is everyone's responsibility to do what they can to mitigate against the climate crisis.
Share This