&lt Back To Directory
MOMA Solar
Since April 2021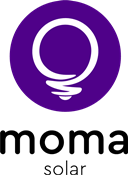 Industry
Environmental services and consulting
600 trees planted
Helping to reverse the impact of deforestation, restore ecosystems and improve biodiversity.
About MOMA Solar
MOMA Solar is a certified Australian Manufacturer whose focus is on working with the environment and using the resources available to all of us at no cost to use.

We are a national provider of renewable energy solutions, specialising in solar LED lighting products in residential and commercial sectors. One of our biggest driving factors is to create positive environmental change by developing sustainable solutions at an affordable price.

We provide a large variety of services and products, with both temporary and permanent solutions to your solar needs – including Street Lighting, Marine and Bird Friendly Lighting, Radar Speed Signs, Vandal Proof Bollards and more.