&lt Back To Blog Archive
A suit from sheep and seaweed: M. J. Bale go carbon neutral
BY


Ryan Borrett
Date


January 2022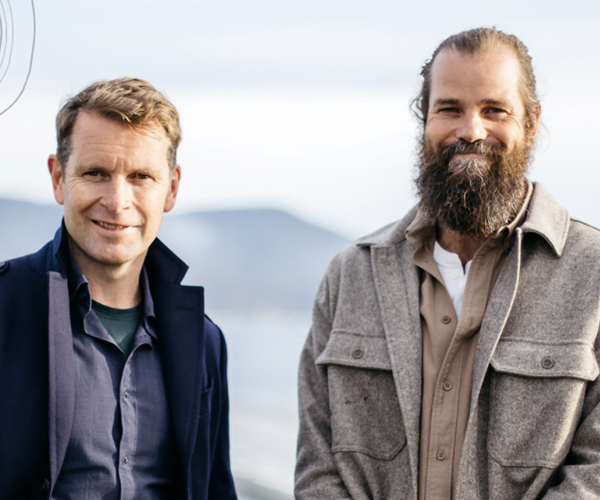 M. J. Bale recently became Australia's first fully carbon neutral fashion brand, after measuring, reducing, and offsetting their entire business' carbon footprint. The landmark achievement took more than two years of analysing the life cycle of their products and understanding how they could reduce their emissions and make their garments as sustainable as possible. Innovation and collaboration were at the core of the journey to carbon neutrality, highlighting how businesses are taking climate action into their own hands and taking responsibility for their environmental impact.
The fashion industry is one of the most polluting in the world, being responsible for around 10% of global greenhouse gas emissions. M. J. Bale took a significant stand to turn the tide by achieving net zero in 2021, and also recognise that their journey to lessen their impact on the planet is only just beginning, and must be an ongoing commitment into the future.
M. J. Bale, who operate 67 stores across Australia, first pursued emission reductions across the different sectors of their operations, and then offset their unavoidable remaining emissions by investing in biodiverse reforestation carbon offsets in Carbon Neutral's Yarra Yarra Biodiversity Corridor and offshore wind energy projects.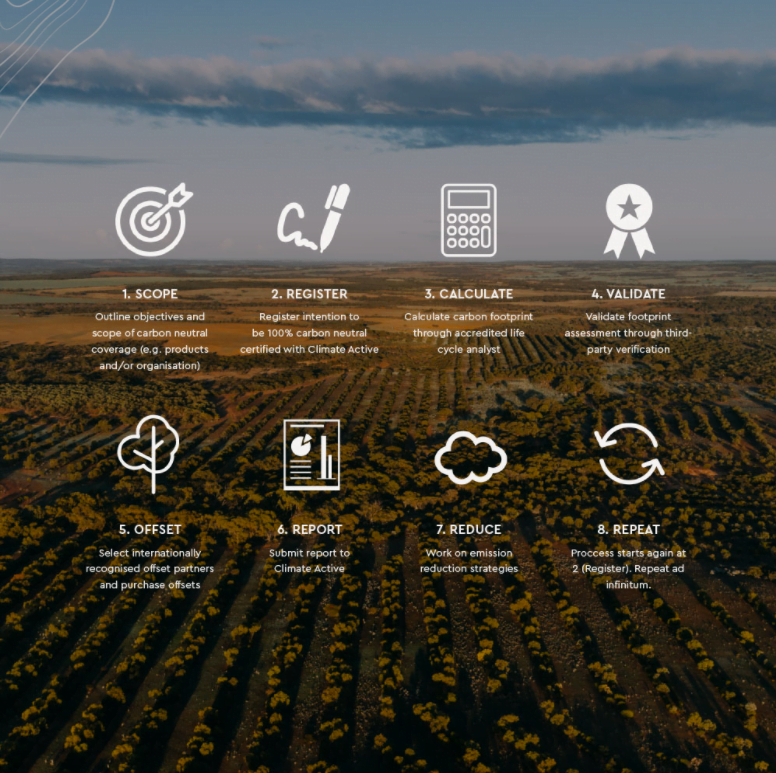 "We recognise that future generations of Australians will inherit the decisions we make today. And as we saw in the recent bushfires, if we lose our environment, we lose our communities and livelihoods. In my mind, investing in the environment is investing our collective future – we don't consider it optional."

Founder and CEO of M. J. Bale, Matt Jensen
M. J. Bale began its carbon neutral journey in 2019 with a scoping study by Life Cycle Logic who charted the route to neutrality by assessing what was needed, and how they were going to get there. The scoping study also measured the carbon footprint of one of M. J. Bale's two-piece suits from raw materials through to being sold – which was found to be 102kg of CO2-e. By understanding the scope of their emissions for their products (88%) and as an organisation (12%), they could prioritise where to target reductions.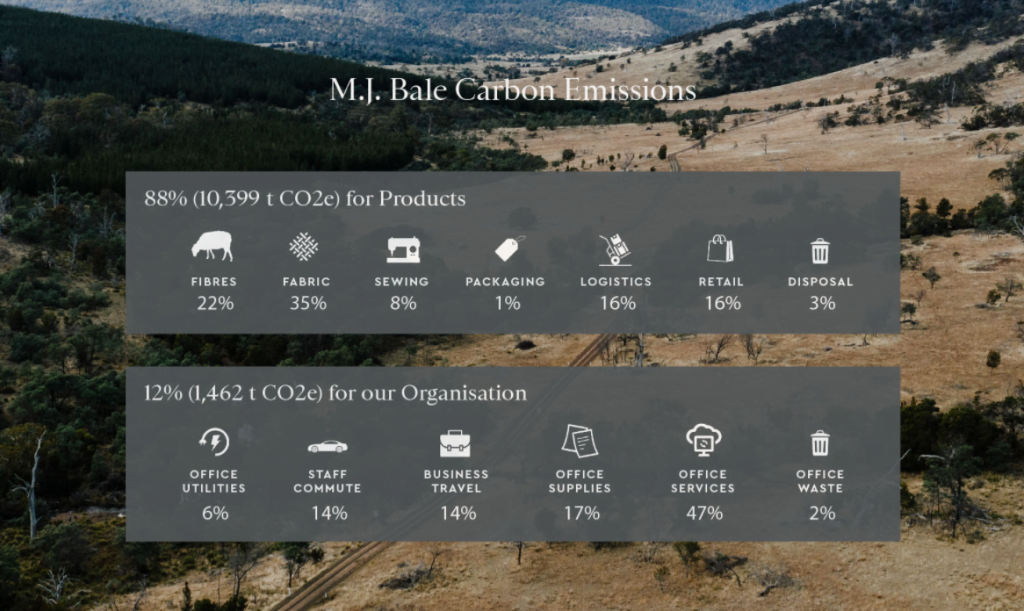 They were surprised to learn wool production was one of the biggest sources of emissions for their suits. A chance meeting between M. J. Bale CEO Matt Jensen and Sam Elsom from Sea Forest sparked an innovative collaboration to reducing emissions from its sheep used for wool. Sea Forest, based in Tasmania and who work with CSIRO, have developed a livestock food supplement from red asparagopsis seaweed. The seaweed eliminates 99% of the sheep's methane production by acting on the gut, and can also enhance productivity by using methane for metabolism. Methane is a potent greenhouse gas and warms the planet about 84 times more than CO2, meaning nature-based solutions like seaweed cultivation can lead to significant climate action.
A trial of the seaweed supplement was rolled out in 2021 at M. J. Bale's single-source wool farm at Kingston in Tasmania, in partnership with the University of Tasmania. Over 300 days, half of the merino sheep were fed with barley laced with the seaweed extract, with the other half eating just barley. The trial was a huge success, leading to the world's first Carbon Neutral Wool. Kingston farmer Simon Cameron is himself dedicated to conservation and low-impact farming, with a proud history in agriculture that protects biodiversity. The trial is expanding to a flock of 500 sheep in 2022.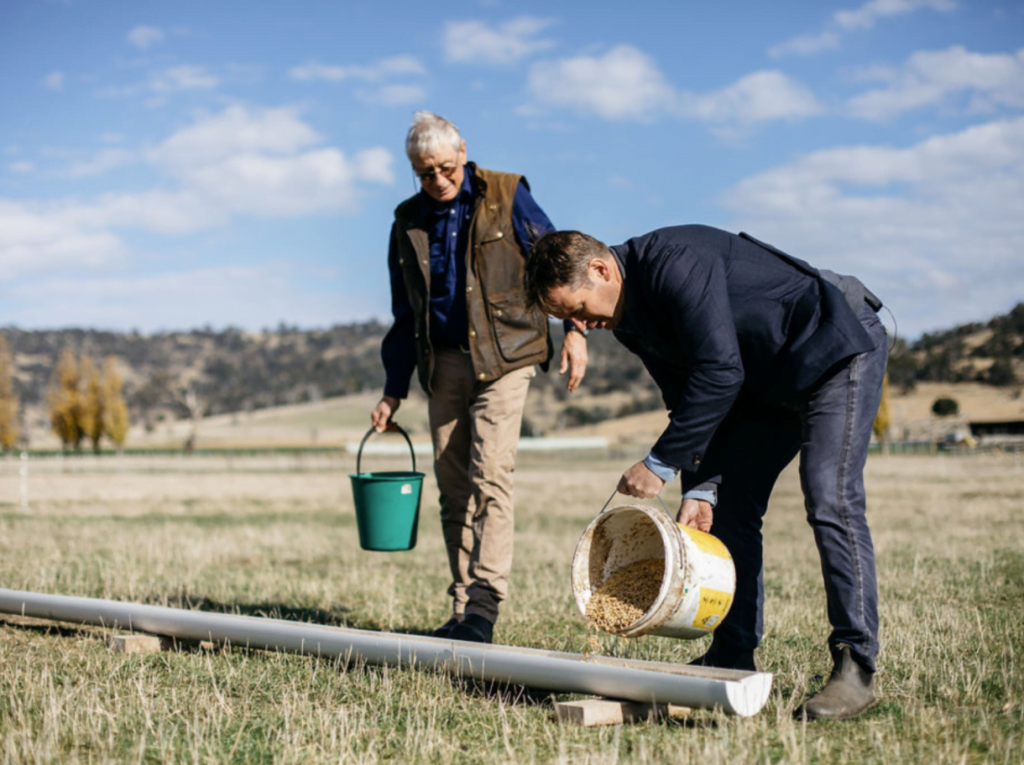 Despite having a widely connected supply chain, M. J. Bale is also working with their global garment makers to commit to reduce their own carbon intensity, switch to solar power, and from coal-fired boilers to gas to power their equipment. They've also struck up industry partnerships with Woolmark and the Better Cotton Initiative to select sustainable, regenerative, and organic natural fibre products.
M. J. Bale aren't stopping there – they are also ensuring more of their garment trims, labels, and packaging are made from recycled materials and natural fibres in 2022 and continuing to improve their bio-degradable packaging solutions. They are also working to engineer schemes to encourage more efficient and sustainable staff transport and freight options. In 2022 M. J. Bale are also transitioning all of their stores to being powered by renewable energy (currently 50%). They've also partnered with the Moving The Needle garment recycling program to extend the life of their suits
The menswear brand plan to have net negative emissions by 2023 and growing further to negative 30% by 2025. We're proud to be part of this Australian-first achievement, and hope the commitment shown by M. J. Bale paves the way for more fashion retailers to do the same.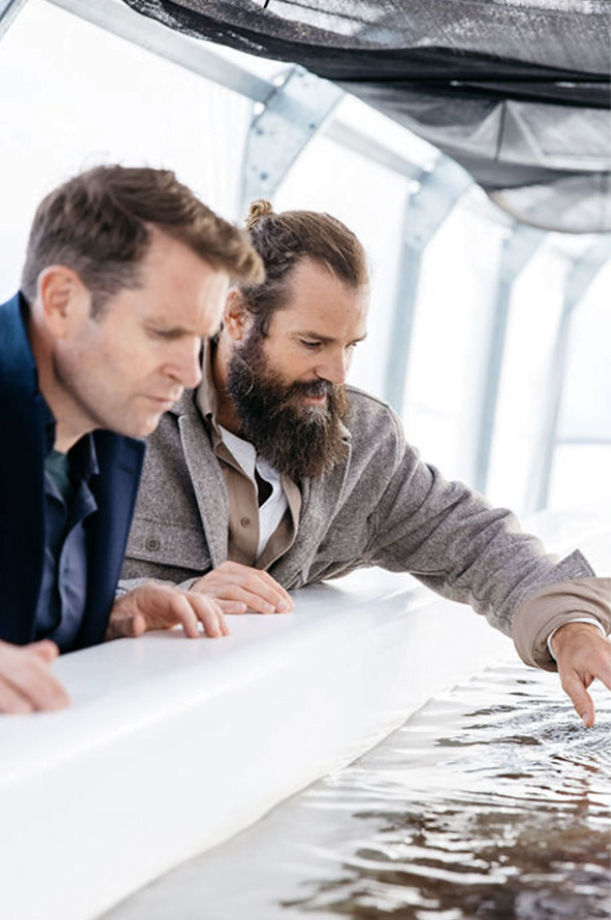 Share This