Working with landowners to restore a landscape
As part of creating a sustainable future we carry out large scale revegetation projects on rural farmland.
RESTORING YOUR LAND
Due to a strong demand from businesses wanting to offset their carbon emissions, Carbon Neutral is looking for land to revegetate with mixed native species.
How does it work?
To continue our revegetation project in the Yarra Yarra Biodiversity Corridor of Western Australia we are looking to expand the area of our planting sites. We are currently interested in working with landowners with marginal agricultural land, including land that is at risk of turning saline.
We work with landowners at every step of the restoration process to plan and establish plantings that are the most suitable for the site and needs of the owner.
Planting native species has a positive effect for rural land, it can reduce salinity, waterlogging and soil erosion while the trees themselves provide shade and shelter for livestock.
You will receive attractive financial incentives, help to sequester carbon from the atmosphere and restore your land.
What we're looking for
We choose sites that have the ability to sequester carbon while improving and protecting the environment.
For sites to be eligible for our land restoration projects you will need:
to be located in the midwest or northern wheatbelt of Western Australia
an annual rainfall of 330mm
be minimum planting area of 100 hectares
land that has been cleared prior to 1990
arable non-cropping sites that can be planted for carbon farming.
If you are a landowner, or a group of neighbouring landowners and would like to know how to get involved in the program we encourage you to get in touch requesting the FAQs or call Ray Wilson on 0423 519 006.
Carbon Neutral Pty Ltd holds Australian Financial Services (AFS) Licence No. 451004.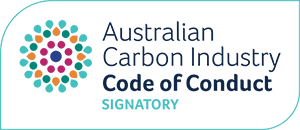 We are a recognised offset entity under the Federal Government's Emission Reduction Fund and are a signatory on the Australian Carbon Industry Code of Conduct.
How you will help

Sequester carbon
Remove greenhouses gas from the atmosphere.

Preserve wildlife
Creation of habitats to encourage the return of native species.

Restore ecosystems
Improve biodiversity with sustainable forest management.

Combat desertification
Reduce salinity, improve soil and combat wind erosion.